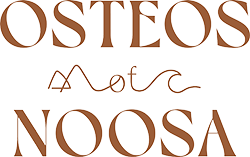 Osteos of Noosa welcome you to their beautiful clinic offering Osteopathy, Reformer Clinical Pilates, and Injury Rehab. Dr Chris and Dr Amanda Bell and their team have extensive knowledge in a wide variety of musculoskeletal injuries and use a range of techniques to get you back doing what you love.
Osteopathy | Clinical Pilates | Injury Rehab 
They pride themselves on listening to your needs, addressing not only your symptoms but finding the root cause of your pain and leaving you feeling educated, supported and empowered to get back to the things you love.
Address
Pavillion 2
37 Gibson Rd
Noosaville Q 4566
Opening Hours
Monday – Thursday 8am-6pm
Friday 8am-1pm
Osteopathy
As Osteopaths we take a holistic approach to your treatment by focusing on your whole body and lifestyle factors rather than focusing solely on the symptom. This allows us to discover the cause of the problem and then structure the treatment specifically to you to provide immediate and long-term relief. We treat with our hands using a variety of techniques that are aimed at restoring you to optimal health.
We Can Help With:
Neck Pain, Headaches and Jaw Pain
Low Back, Shoulder and Hip Pain
Acute and Chronic Sporting Injuries
Postural and Overuse Injuries
Pre & Post Pregnancy Care
Paediatric Care and Children's Health
And More…
Techniques We Use:
Soft Tissue Massage
Manipulation and Mobilisation
Myofascial Release and Stretching
Dry Needling and Cupping
And More..
Reformer Clinical Pilates
Our Clinical Pilates classes are run by our Osteopaths who have expert knowledge and training in exercise physiology, anatomy, and pathology to specialise your injury management and prevention. Clinical Pilates differs from a regular Pilates class as it is used for individualised treatment depending on your needs. Whether it is recovering from an injury or surgery or just needing a little extra specific attention to get you back to doing what you love.
Clinical Pilates can show improvements in posture, flexibility, muscle strength, control, balance, breathing and overall fitness. Clinical Pilates is for everyone from adolescents to pregnant women and the elderly. You don't need to have an injury to benefit from Clinical Pilates, many clients come to keep fit and healthy, enjoying the personalised attention that a small class size allows and the peace of mind to know that you are performing the exercises correctly.
We Offer:
1 on 1 Reformer Clinical Pilates
1 on 3 Reformer Clinical Pilates
Not sure if Osteos of Noosa is right for you? Get in touch to talk to our team today.
Align and Shine
@osteosofnoosa
This error message is only visible to WordPress admins
There has been a problem with your Instagram Feed.
Leave a Message
Leave a brief message and we'll get back to you as soon as we can.
We look forward to hearing from you.