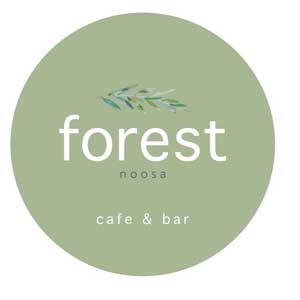 When you are looking for a place for a coffee and a tasty breakfast, or a light lunch and a cheeky glass of wine, what ticks the boxes for you?
How about a tropical leafy outdoor setting, cool tunes playing in the back ground and a choice of spacious seating with warm sunshine, or a cosy comfortable booth with plenty of shade for you to kick back and enjoy a catch up with family or friends.
Forest Noosa Cafe and Bar has all of the above and more. Based in the heart of Acres Noosa, Forest Cafe offers something for everyone, with Fresh locally roasted Coffee and Teas, yummy breakfasts and lunches with eggs benny, delicious toasties, the mighty Forest steak sandwich with caramelised onions, lush green salads or why not try one of our tasty popular Wensley Pork Pies, pasties, Eccles cakes or super sweet Bakewell tarts, as well as many other mouth watering dishes we are proud to offer at Forest Cafe.
If its chilled Friday afternoon beers or wine with some nibbles your looking for, then we have our courtyard bar that is stocked with some local craft beers and plenty of wines for you to enjoy. Relax amongst the tree canopies and colourful lighting we have to offer at Forest Noosa Cafe and Bar.
With a smile, chat and a bit of banter, Emma and Matt are here to welcome you to Noosa's best kept secret.
Address
Pavillion 1a
37 Gibson Rd
Noosaville Q 4566
Opening Hours
Monday – Saturday
7.30am – 2pm
Sunday
7.30am – 12pm
Leave a Message
Leave a brief message and we'll get back to you as soon as we can.
We look forward to hearing from you.